Here at GreatVacs, we only sell the best brands - and Rainbow vacuums are one of them! With over 50,000 units serviced or rebuilt, we have established ourselves as the leading experts on Rainbow cleaning machines in the USA.
It is not uncommon for Rainbow dealers to reach out to us for assistance when they are unable to resolve a repair issue on their own. Our experience, knowledge, and skill allow us to diagnose and fix a wide range of issues others may struggle with.
Did you know that Consumer Reports ranked Rainbow as number one on the world's most dependable canister vacuum? Yes, that's the vacuum that we're talking about here.
Over the years, we have had the pleasure of working with countless customers who have relied on us to keep their Rainbow vacuums in top shape. As a result, we have gained valuable insight into the models that are the most popular among our clients. By recognizing patterns, we are able to provide our customers with informed recommendations and advice based on our extensive experience with Rainbow vacuums.
Actually, we have a special place in our warehouse called "GreatVacs Labs" whose sole purpose is for helping us gain better knowledge of all the brands we sell. This is where we do all the testing on these vacuum cleaners to really learn what makes them tick.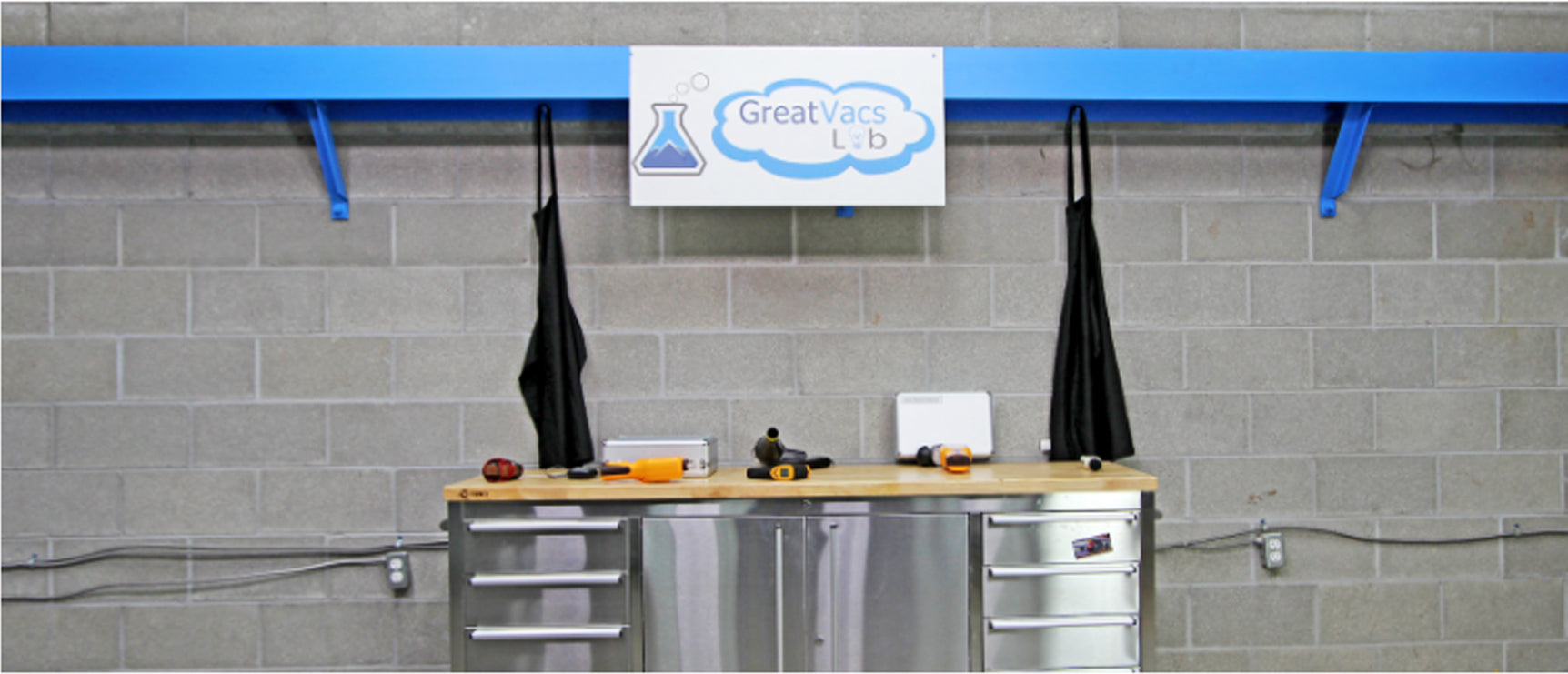 Our laboratory is fully equipped with testing instruments and devices you've probably never even heard of: Airflow Meters, CFM Testers, Water Lift Gauges, Infrared Thermometers, Ozone Emission Testers, Particle Emission Testers, and our personal favorite: The Tennis Ball Tester. With these tools, we are able to determine which vacuum is the best.
GreatVacs gives you a guide on a better understanding of what are the main factors of how well a vacuum cleans your floor. Most manufacturers don't like this data to be public, because then it's easy to compare vacuums and decide which one is better. The data we're talking about, and we'll be most focused on, is CFM (Cubic Feet per Minute). Why it matters so much, what is a CFM tester, and what it actually looks like, find out below.
There are typically 4 ways the power of a vacuum can be measured:
General talk, with no data provided
Measured in CFM (Cubic Feet per Minute) of Airflow
Measured in Water Lift (measure suction not airflow)
Measured in HP (worthless in vacuums)
Here, at GreatVacs Labs, we've measured the airflow of every Rainbow model ourselves. We test already-used vacuum units because we feel the vacuum tests should be done on used and broken-in units. The suction should always be strong on a new unit, but the real test is what can a used unit do. You might find slightly different performance compared to the manufacturer's data but our test data is accurate and uniform among the vacuums we test. Also, you should know some brands will try and boost the CFM ratings of their products by doing the test without a bag or a HEPA filter. Our tests always include an installed bag or HEPA filter just like it would be while you are vacuuming!
CFM is a term the vacuum industry uses to express a vacuum cleaner's suction power. As you could see above, it stands for Cubic Feet Per Minute which refers to the volume of air a vacuum cleaner can move in a minute. The higher the CFM, the more powerful your vacuum is.
Now that we got that covered, you understand why one of the main pieces of testing equipment we use is the CFM tester.
The results we found after testing each Rainbow model with our CFM tester are provided in the table below:
As you can see, Rainbow power nozzles are optimized in a way that the CFM is improved. Additionally, as presented in the table above, the last two power nozzles (E2 Black 2 Speed Model and SRX 4 Speed Model) have brush-edged cleaning, which results in even greater cleaning performance.
That means reaching deeper into carpet fibers to remove dirt and dust that a regular vacuum nozzle might miss. Also, it is a versatile cleaning tool that can be used throughout the home. The edge brushes are shown below.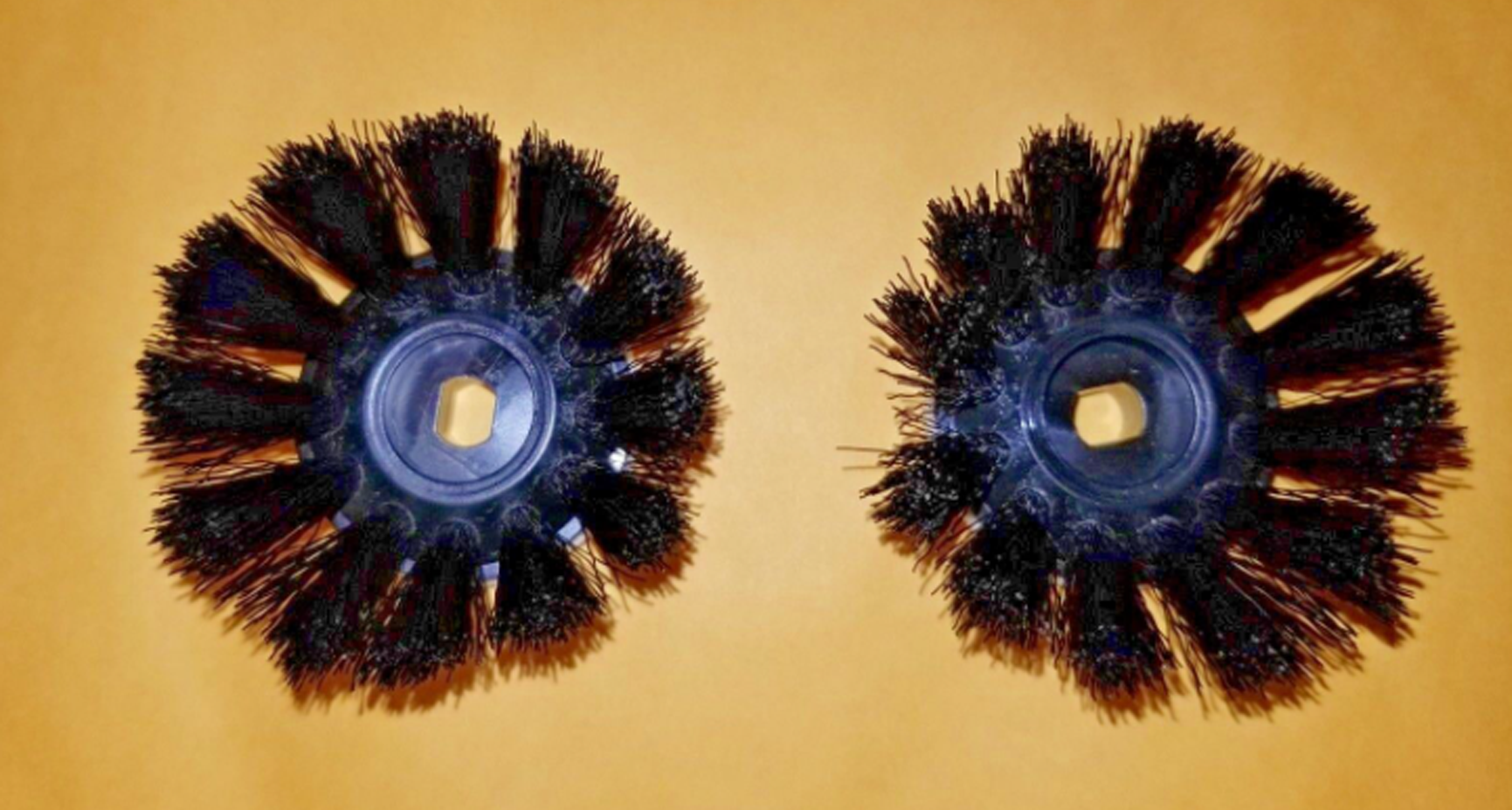 Rainbow vacuums are vacuums with deep cleaning ability and they won't just sweep the top surface area of your carpet. It will vacuum up sand, dirt, and allergens, and stop them from grinding down into your carpet. With vacuums that don't have deep cleaning ability, the sand particles left behind will cut your carpet fibers, leaving visible pathways on the carpet.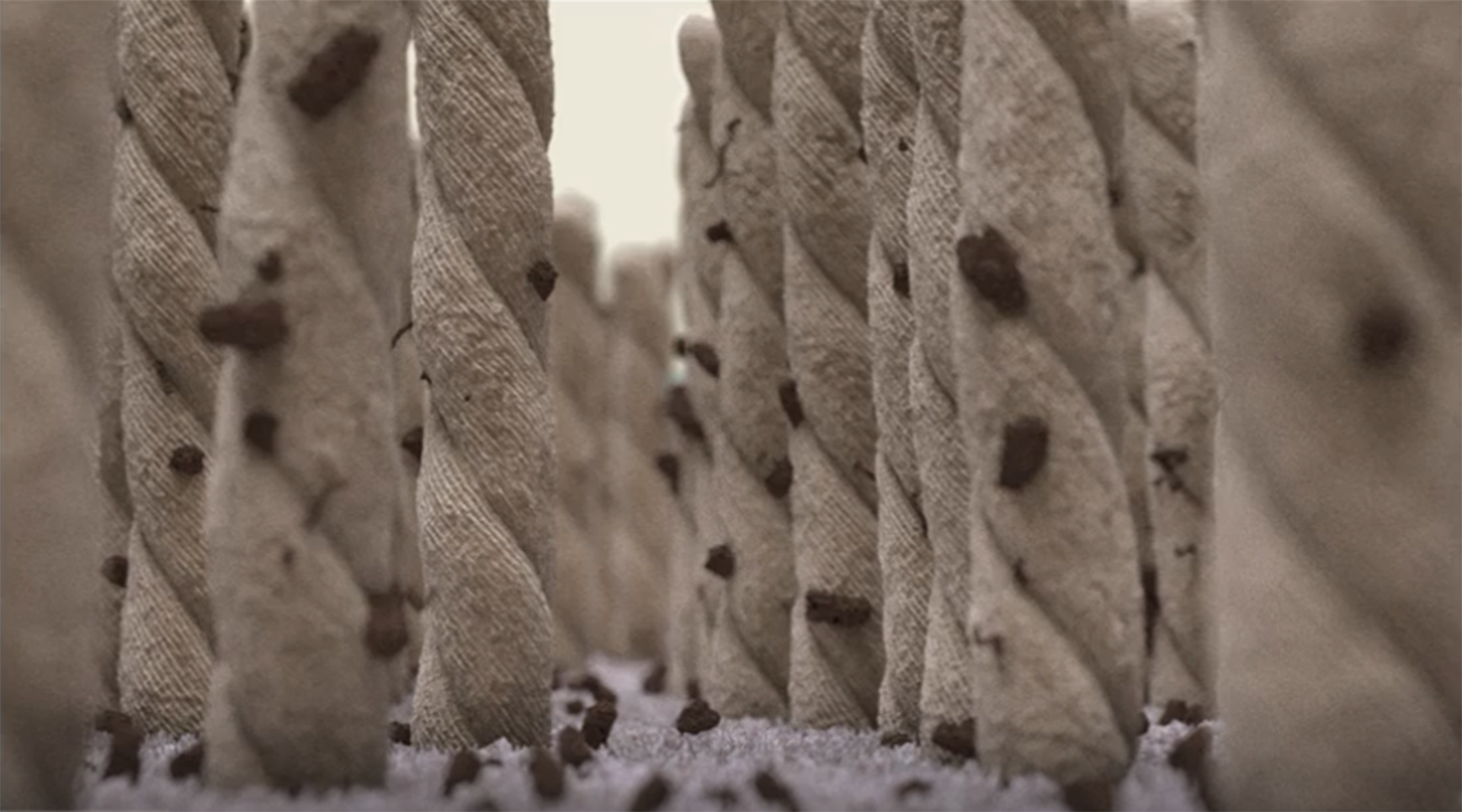 Another thing that gives the Rainbow vacuum the deep cleaning ability is suction that spreads all the way across the head because the suction tube is positioned in the middle. Other vacuums have it positioned more left, or more right which makes the low suction effect on the other side of the head. Also, pet hair could get wrapped around the brush roll which isn't convenient at all.

Rainbow vacuum cleaners have been manufactured by the Rexair company since the 1930s. However, during Ronald Reagan's presidency in the 1980s, the company introduced some new models that offered improved features and performance.
One of the models that were introduced during this time were the Rainbow D4 and the Rainbow SE model.
Both of these models used the same basic water filtration system that Rainbow vacuums are known for. This system uses water to trap dirt and dust which is then drained away when the vacuum's water bowl is emptied. This can help improve indoor air quality by removing allergens and other airborne particles, trapping them in the water, and making sure they don't reenter the air in your home.
The Rainbow vacuum also gained popularity as a multi-purpose cleaning tool. The vacuum could be used not only to clean carpets and upholstery, but also to scrub floors, dust surfaces, and even clean the air.
One of the most authentic things about the Rainbow D4/SE vacuum cleaners is that they maintained their popularity even after 30 years - you can see that by their current selling price of over $800 at Amazon! It is highly unlikely to find any other vacuum like that!
The Rainbow remains the most popular and preferred choice among consumers due to its exceptional features and performance.

Rainbow models that we suggest you don't buy are the D2 and D3 models, simply because they don't make parts for them anymore.
Rainbow models we suggest you buy
Here we'll give you our two favorite models. Maybe you'll be wondering why we didn't pick the SRX model. It's because they feel more like a computer than a vacuum. We like vacuums that are more simplistic and powerful. Our first favorite model is the Rainbow D4/SE .
Rainbow D4/SE is the oldest model we sell or service. They are very hard to find today, but we do get them in occasionally. Even though Rainbow is no longer manufacturing parts for them (we still maintain a stock of parts for them), their customers continue to show a strong preference for these products, as they remain highly popular in the market.
Some of the key features of the Rainbow D4/SE vacuum:
Customers have shown a clear preference for them over newer models, making them very popular!
The main reason for their popularity is that they are just workhorses - no circuit boards or computers. They are pretty simple and come with deep cleaning ability and the ability to last for decades!
They come with a water filtration system
They have 72 CFM of deep cleaning power
Ranked Number One as the most dependable canister vacuum in the world by Consumer Reports
Made in the USA

5 Year warranty

(however, we see Rainbow vacuums on average lasting about 25 years)
Our second favorite model is Rainbow E2 Black. Why?
It has a 2-speed motor - one for air purifier mode, and one for vacuuming mode.
It has an ADVANCED water filtration system and a HEPA filtration system.
It comes with a power nozzle that has brushed-edged cleaning (brushes that spin), which means even better cleaning performance.
Also, it has LED lights that illuminate the area being cleaned, making it easier to see dirt and debris in low-light areas.
And don't forget about the mighty 97 CFM strength!
Both of them are high-performance vacuum cleaners designed to provide exceptional cleaning performance and versatility. Rainbows are a perfect choice for homeowners who are looking for a vacuum that can handle a range of cleaning tasks and surfaces, while also improving indoor air quality! While these are our most liked models that doesn't mean any of the other models are any less impressive. Trust us, you'll definitely be happy with any Rainbow model and your floors will thank you too.
This is an actual email that we've got from a customer:

"Hi Greatvacs, will you email my friend Rebecca and sell her a Rainbow vacuum? She borrowed mine 2 weeks ago and now refuses to give it back. :)"
Rainbow customers don't just love their vacuum - they are fanatical about them! It is rare for them to consider any other brand once they have experienced the quality of Rainbow vacuums.
Hope our guide helped you understand the power of the Rainbow vacuum better!
Here at GreatVacs, we have sold or serviced over 50 000 Rainbow vacuums - so we know them really well! If you have any questions about what model is best for you or you have questions about your Rainbow vacuum, don't hesitate to reach out to us at service@greatvacs.com!